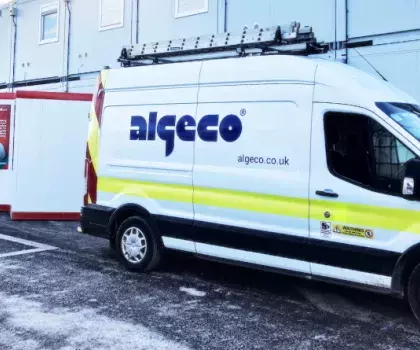 Kier And Elliott Implement Smart Solutions
Kier and Elliott implement smart solution to cut carbon emissions from site accommodation
Kier Construction Western & Wales, working with Elliott, has unveiled a revolutionary pilot project that uses smart technology solutions to cut carbon emissions by up to 25% on its site accommodation at the Winterstoke Hundred Academy Expansion.
432m2 of Elliott Moduflex® buildings were specified by Kier for use as welfare, offices and meeting rooms on its Net Zero, 900-school place Winterstoke Hundred Academy School Expansion Build in Weston-super-Mare. Kier's innovative approach to cutting carbon and energy use on this project sets new standards for site accommodation. It is being hailed as a blueprint for how future construction projects will achieve end-to-end carbon reduction that start from day one.
As more zero-carbon builds come to market, Kier is demonstrating a forward thinking approach that has the potential to be rolled out to many more construction projects.
Appropriately, the Elliott modules were prepared by the company at its facility in Bristol using a local workforce and delivered to the site in Weston-super-Mare, helping keep the carbon footprint to a minimum.
Energy saving features and smart technology is being used in the Moduflex modules to monitor, manage and reduce carbon and electricity use. This will contribute to significant carbon savings during the 80-week construction schedule.
Elliott supplied the Moduflex modules fully furnished and ready for the smart technology. The technology will monitor energy within zones, taking readings across a wide range of parameters every few seconds to optimise energy use and identify any interventions required.
Along with carbon savings, wellbeing is encompassed within this innovative pilot project, and the technology has already highlighted where the heating system required intervention to improve user experience in a particular zone.
The carbon saving features incorporated into the site accommodation includes: HVO fuelled generators and hybrid battery storage; electric vehicle chargers and dehumidifiers in drying rooms to help with heating and reduce carbon and electricity costs. In addition, climate control in first floor offices and meeting rooms has been included to increase wellbeing and comfort, whilst also reducing the carbon and electricity costs over traditional panel heating.
These are in addition to other energy saving features built into Elliott's market-leading Modulflex modular building system as standard: time-controlled heating, instantaneous water heaters, low energy LED lights with PIR sensors to automatically switch off when spaces are not in use.
Moduflex® is made using responsibly sourced recycled PVC-U and recyclable timber from certified/managed forests. Even the temporary foundations are made using sustainable, reusable materials that haves significantly less embodied energy compared to traditional concrete foundations.
Jon Woodman, Bristol Area Manager at Kier Construction, said, "This project sets new standards for site accommodation, and it is fitting that they are deployed on a zero-carbon build. The Elliott cabins are already installed on site and early indications are that they are achieving impressive carbon reductions. We will gain a better understanding of savings over the next few months."
Jon added: "The site accommodation at Winterstoke Hundred Academy School will be in place for 80 weeks and so the savings in energy and carbon will make a significant difference over the duration of the development."
Andy Brind, Senior Key Account Director at Elliott, said: "This is a hugely significant project by Kier that will set out a roadmap for how other construction sites can cut carbon emissions. Kier is demonstrating that sustainability should not just be focussed on the actual build, but rather encompass all aspects of the project starting from when site accommodation is deployed."
Advante, part of the same group as Elliott, also worked with Kier on this pilot project that involved supply of two solar self-contained Oasis welfare units. Elliott Group Ltd, Carter Accommodation Ltd and Procomm Site Services Ltd, leaders in UK modular services and part of Modulaire Group, will unite under a common brand - Algeco - in March 2022.
To find out more about this project, visit: www.kier.co.uk