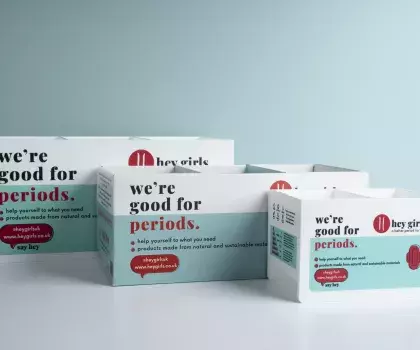 Algeco partners with Hey Girls to help end period poverty in the construction industry
Algeco, a leading modular and offsite building solutions brand, has announced a partnership with social enterprise Hey Girls to reduce period poverty in this sector.
Hey Girls' products are now available to staff for free at all Algeco sites across the UK, and for every product Algeco buys, one is donated to someone who needs it.
Set up in 2018, Hey Girls is the award-winning buy-one, donate-one social enterprise, creating plant-powered period products that fund the fight to end period poverty in the UK.
Their period products offer the functionality of plastic, without the pollution. Their plant-based disposable products are made with sustainably sources bamboo and 100% certified organic cotton.
Cai Challinor, 360 Product and Service Executive at Algeco, said: "Since working with Hey Girls, myself and my colleagues at Algeco have learned so much about period poverty, but also about the incredible work that Hey Girls are doing to reduce the problem in the UK.
"The construction industry is typically very male dominated, so Algeco saw this as a great opportunity to make sites more female friendly and supportive – across the industry."
As well as spanning all Algeco sites, the Algeco sales team are promoting the products to customers – helping to spread the knowledge and importance of reducing period poverty.
Morgan Sindall Construction, one of Algeco's long-standing customers, has become one of the first to get involved with this initiative, and others are expected to follow suit.
Gavin Jamieson, Supply Chain & Procurement Director at Morgan Sindall Construction, said:  "As a Responsible Business, committed to being Instinctively Inclusive, we're proud to be working with our supply chain partners Algeco to support such an important social enterprise and you'll now see Hey Girls products as part of any Morgan Sindall Construction site or office."
Daisy Williams, Contracts and Partnerships Manager at Hey Girls, said: "We are so proud to be working with Algeco – inspiring more conversations about period poverty in a typically male-dominated industry.
"Partnerships such as this are so important in opening up the conversation and breaking the taboo around periods, while ensuring staff have access to the products they need. We want to thank the Algeco team for being champions of Hey Girls by introducing us to their partners and playing their part in the fight against period poverty nationwide."
Hey Girls is a Social Enterprise organisation, meaning they operate to tackle social and environmental challenges. They reinvest their profits back into delivering their missions of creating a positive impact.
Algeco sources a number of products from Social Enterprises to help customers make a direct positive impact within their businesses, including Hey Girls. Other Social Enterprise products offered by Algeco include flooring, signage and water.
The range of Algeco social enterprise products have the same spec - or better – as non-social enterprise equivalents; but obviously deliver better value for society.
To discover more about how the Algeco Social Enterprise programme can support your journey to positive Social Value, visit: https://www.algeco.co.uk/sustainability/social
To find out more about Hey Girls, visit: www.heygirls.co.uk.