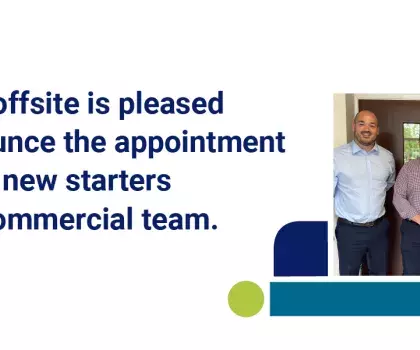 Algeco offsite expands commercial team with three new appointments
Algeco, Europe's leading modular accommodation provider, formerly best known as Elliott in the UK, has announced three new appointments to its commercial team.
The appointments follow significant new project wins for the offsite business, including the £19.2m Laurence Calvert Academy Middleton Complex in Leeds.
Wayne Yeomans joins the offsite team as Sales Director as the business looks to consolidate recent new project wins and drive forward sales across its permanent building solutions portfolio.
He will be responsible for the strategic leadership of the commercial teams and will contribute to the overall growth strategy; helping the Algeco offsite business to achieve further successes within the UK.
Wayne brings with him vast experience to the Sales Director role, having provided solutions for construction clients and building designers in a wide range of sectors.
Richard Crawshaw and Oscar Jenkins both join Algeco offsite as Business Development Managers. They will have a specific focus on growing sales of Algeco offsite and modular permanent construction solutions in existing and emerging market sectors.
Richard and Oscar both have a strong customer-focused approach and attention to their needs. As business development managers, each will develop a regional and channel strategy, and support initiatives for extending opportunities for Algeco offsite in a wider range of market sectors.
Richard moved from Algeco Modular Hire division, so has an in-depth understanding of the business and the products and services it offers. Oscar joins from Darwin Group, bringing with him a detailed understanding of modern methods of construction.
James Withey, Managing Director at Algeco, said: "Our offsite business is currently undergoing rapid growth as more customers look to access the benefits of our offsite construction systems. All three new starters will be interacting directly with customers to ensure that their needs are being met."
James added: "Wayne and the new business development team bring a wealth of sales management experience and valuable know-how that will be an asset to our fast-growing offsite business. They have a deep understanding of the marketplace, and what architects and property companies need to meet their building requirements. We welcome them to the Algeco offsite team."
Algeco, which has UK headquarters in Peterborough, employs over 1,200 people and has a turnover of c£200m. It is a leader in both temporary accommodation, with one of the largest rental fleets in the UK, and bespoke permanent offsite building solutions for a variety of sectors, including education, health, living accommodation and roadside retail.