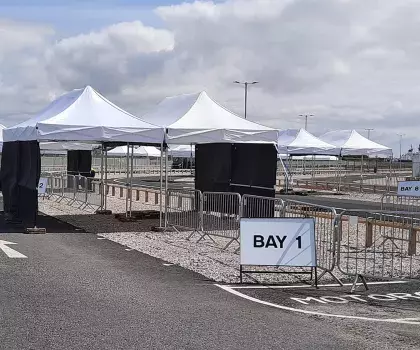 Algeco Awarded Contract to Deliver New Covid-19 Test Centres
With current Covid-19 test centres operating at maximum capacity across the UK, Algeco (formerly Elliott UK) is using the expertise gained during the first wave of the pandemic to build new Covid-19 test centres, on behalf of the Department of Health and Social Care.
We will deliver the new purpose-built facilities to locations ranging from Keele in Staffordshire to Stirling in Scotland. The primary aim is to construct the facilities at pace, to meet the government's urgent need to provide additional critical testing.
At the heart of the project will be our bespoke Moduflex solution - a unique modular accommodation facility that can meet a wide range of accommodation and building design needs and prove essential to both testing and safeguarding the welfare of those involved.
We will also be providing a queuing marquee, perimeter fencing and crowd barriers to ensure safety measures are firmly in place for both people being tested and staff on site. Workstations and lockers will also be supplied to provide employees with a safe place to store their belongings and prepare for their work on the frontline.
To keep safety at the forefront of the process, ramp entrances will be provided along with steps so that access is available for everyone who wishes to be tested. Water tanks and generators will be given so that the sites can run constantly without the disruption of power failures.
With extensive experience of supporting the NHS during the current pandemic already, we have provided bespoke modular solutions to the NHS Nightingale Hospital in Birmingham, alongside ten units supplied to various hospitals across Greater Manchester.
Alex Mcfie-Hyland, our national business development manager, commented: "The experience gained through working with the NHS during the pandemic has been invaluable and a major factor in us being appointed to deliver these new testing centres. Our ability to deliver at speed and provide a bespoke building solution that meets the highest Covid-19 health and safety standards was also paramount.
"We've had to adapt our business model and building solutions to the pandemic, but this can only further enhance the support and expertise we're giving to existing clients across a range of sectors and build projects. We hope the new emergency facilities will play a major role in providing increased testing to the hardest hit areas across the UK where it is needed the most."
If you're interested in hearing more about how our Moduflex solutions can support hospitals and other services, make sure you get in touch with us today.