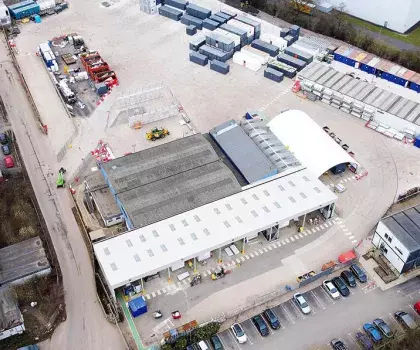 Algeco are Investing in the Future with New Fleet
Algeco (formely Elliott UK) are proud to announce we are in the process of adding over 2,200 new units to our hire fleet to meet future customer demand.
We've made the move to add to our existing range of portable and modular buildings, allowing a wider choice for prospective customers.
This year has seen a strong increase in demand for our products and services, comprising our permanent, semi-permanent and temporary accommodation solutions. The growth in the construction industry has meant that we are providing more temporary buildings to support increased demand as well as assisting the government's efforts during the pandemic in 2020. These are two examples that have led to the expansion of our fleet and modernisation of their current portfolio to support the ongoing demand within the UK.
There will be 1,407 Moduflex, 520 Anti-Vandal, 200 Fireflex and 141 Anti-Blast buildings being added to our hire fleet. The first deliveries of these new units has commenced already and the final deliveries will be completed by April 2021, so the fleet will be at full strength in time for peak demand next summer.
The 2,268 buildings equate to almost 60,000m² of additional space, enough to be able to house approximately 10,000 socially distanced workers in offices.
At the heart of the new units will be our bespoke Moduflex solution - a uniquely fast and flexible modular system that can meet a wide range of accommodation and building configuration needs. Similarly, Fireflex buildings are an evolution of Moduflex, with the added benefit of a fire rated enclosure which exceeds the requirements of the Joint Code of Practice.
The additions to the Anti-Vandal range bolster demand for sites where security is paramount. Constructed to an all steel design they come complete with an integral locking system, steel window shutters and doors with anti-jemmy edges forming a robust structure. The Algeco Anti-Blast range is the perfect solution for hazardous locations as it is constructed to rigorous standards that provide a target level of protection of 1% vulnerability.
Trace Norton, our Strategic Sales & Marketing Director, said, "Following an unprecedented year of challenge and market turmoil, in which we have provided a large number of solutions to support many industries across the UK, it's clear that demand for our products will remain buoyant for the foreseeable future. 
"Our investment in the new hire fleet additions, shows our dedication to continually improving the service we offer our existing customers as well as our ambitious plans for expanding the number of businesses who choose to work with Elliott."
Our range of services can be deployed with minimum notice to any location across the UK. For more details, get in touch.