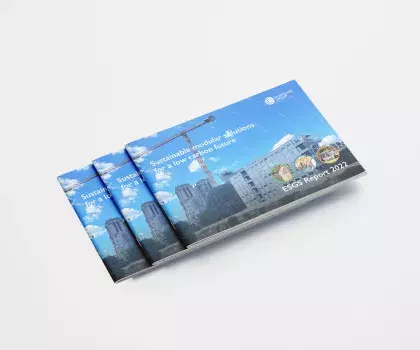 Algeco and Modulaire Group delivers 26% reduction in carbon emissions
Algeco parent company, Modulaire Group, has published its latest Global Sustainability Report today showing a 26% Scope 1 and 2 emissions reduction for the global business compared to its 2020 baseline.
The report, titled 'Sustainable modular solutions for a low carbon future', provides a comprehensive update on progress that the Modulaire Group is making across its own global operations, corporate supply chain, and with customers, since placing sustainability at the forefront of strategy and decision-making.
Highlights of the latest report include:
26%

reduction

in global Scope 1 and Scope 2 market based emissions vs 2020;

54%

of energy now from renewable sources

4,616 hours

of volunteering

Algeco UK

achieved 6.8% reduction in scope 1 and 2 between 2020 and 2022
Scope 1 are direct emissions that are owned or controlled by a company, whereas scope 2 indirect emissions are a consequence of the activities of the company but occur from sources not owned or controlled by it.
The report references the UN SDGs (Sustainable Development Goals), TCFD (The Task Force on Climate Related Financial Disclosures) and UNGC (United Nations Global Compact) Standards.
Published annually, the latest group report discusses the roadmap to Net Zero, its wider ESG strategy and KPIs to measure progress. It sets out the strategy behind Modulaire Group's Environment, Social and Governance (ESG), with circularity, adaptability, and leasing at the core. This 'loops within loops' model is at the heart of the strategy, which employs circular economy principles to minimise waste, virgin materials and the embodied carbon throughout its whole operations and activities.
With the UK government committed to meeting a legally binding target of net zero emissions by 2050, all organisations will need to cut carbon emissions. With the built environment accounting for around 40% of CO2 emissions, Algeco UK has already taken important steps to Climate action.
Algeco is aiming to meet Net Zero carbon within an end-to-end supply chain before 2050. Key elements include the drive for energy, water and waste reduction within its own operations, as well as its customer solutions.  
Social responsibilities within the report are focussed around enhancing employment practices to ensure a safe and inclusive environment for all its people. Algeco in the UK has also recently partnered with a number of social enterprise organisations - businesses that reinvest most of their profits into social or environmental initiatives and projects - to help customers increase their Social Return on Investment (SROI).
Every social enterprise-sourced product from Algeco will generate a SROI report via the supplier, providing the audit trail organisations need to demonstrate Social Value. The range of social enterprise products offered by Algeco UK have the same specifications - or better – as non-social enterprise equivalents; but obviously deliver better value for society.
Mark Higson, Group Chief Executive Officer of Modulaire Group, said:
"I am pleased with our progress this year based on our five strategy and performance pillars. Our ambitious goal of achieving Net Zero by 2050 is encouraging our teams to work with passion and pride, finding new ways to reduce our environmental impacts and delivering social value to the communities in which we operate.
Many of these achievements are shared in our ESGS report, including reducing our Scope 1 and 2 market based emissions by 26%. I continue to believe there are significant opportunities to help our customers, suppliers, and stakeholders to address the challenges of climate change and to deliver growth in the low carbon and circular economy."
Inder Poonaji, Director of ESG and Sustainability, said:
"Our latest Global Sustainability Report documents the excellent progress we are making and the ambitious targets we have committed to. Reducing embodied carbon emissions is a challenge across the entire built environment, not just in buildings. That is why sustainability remains at the forefront of our strategy and decision-making as we look to play a leading role in delivering decarbonisation across the sector."
Commitments to further strengthen the Algeco and Modulaire approach to Governance involves a strong compliance focus around health and safety, human rights and labour practices, code of ethics, anti-corruption and sustainable procurement throughout the whole supply chain.
Modulaire Group is a leading provider of modular services and infrastructure, offering flexible, cost-effective, high-quality and timely solutions to help customers in a variety of end-markets
efficiently meet their needs for space and remote accommodation. The Group operates under the Algeco brand across the UK and Europe, where it is one of the longest established brands in the modular and offsite construction industry.
Algeco and the Modulaire Group employ more than 4,400 people working across 23 countries.
Algeco and parent company Modulaire Group are owned by Brookfield Corporation, a leading global alternative asset manager.
To find out more about Sustainable modular solutions for a low carbon future, you can view our reports here.