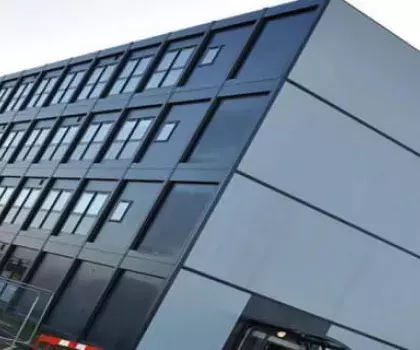 Motoring Ahead with Progress
The Challenge
Jaguar Land Rover (JLR) is the company behind the two premium heritage automotive brands. It had an urgent requirement for accommodation to house up to 600 personnel, a need driven by a new project being undertaken at the JLR Design & Engineering facility at Gaydon in Warwickshire.
The building needed to provide a high quality working environment to satisfy the teams of highly skilled engineers it would be home to for the next few years. It also needed to be adaptable, capable of accommodating changing future needs quickly and easily.  
JLR needed the building up and running fast so the project could get underway. It had to be designed, manufactured, installed and occupied within six months.
Our Solution
Algeco designed and installed a three-storey Progress building consisting of 144 modules, to create an overall workspace of 5447m2. Progress is a stunning, contemporary architecturally-designed building system. With picture window glazing options, a modern, light feel, anthracite grey external walls and state of the art fixtures and fittings, its elegance is un-paralleled in the marketplace. This gave Jaguar Land Rover exactly what it wanted, in keeping with its prestigious image. Additionally,  the building was future-proofed by the groundworks and ground floor modules being specified for four-storey capability at design stage, so a fourth floor could be added at a later date, along with extended staircase and lift facilities, if required.
Internally, the building was fitted with a full climate control system and high quality suspended ceiling and light fittings to create and maintain a comfortable working environment. Algeco also provided all of the commercial kitchen equipment for the block's staff canteen.
The building was completed on time and on budget, so the project timescales were kept on track and the clients satisfied.
Increasing project staff numbers meant that a fourth storey was ordered within two months of the building being constructed, taking it to 192 modules and 7262m2 in total.  
Luke Blakemore, Business Development Manager at Algeco commented, "This was a rare project because it is one of few that has fully exploited the possibilities of modular building and the Progress system. By thinking ahead at design stage, adding a fourth storey later on was easy, so the building has continued to meet JLR's needs, as the organisation has evolved and grown."