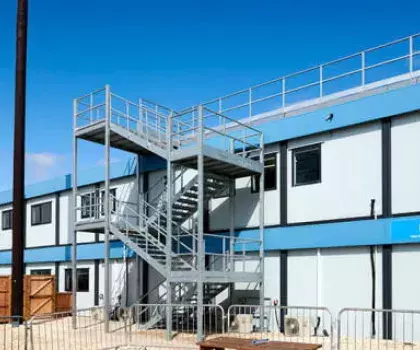 Helping to deliver one of the world's largest offshore Wind Farm
The Challenge
Following the successful award to Algeco of supplying an office building for Hornsea Project Two at Killingholme Power Station, Algeco has supported Balfour Beatty in delivering the onshore substation for the world's largest offshore wind farm.
Having competitively tendered, Algeco was selected to supply a high-class temporary two-storey office complex for Orsted's  employees, surpassing its competition in terms of the efficiency of the design, also offering the best guarantee of product and
service.
Planned to be operational in 2022, the windfarm needed a high quality office facility, which would provide a comfortable, spacious and naturally bright environment, stimulating productivity of the Ofsted's expert delivery team.
Our Solution
The 2-storey building, complete with a viewing platform, comprised a mixture of office and welfare space.  The ground floor housing a spacious reception leading to a PPE store and stationary, contained also 2 no. hot desk offices, a large meeting room, server and print rooms, male and female locker rooms along with an adequate toilet and shower provision.
In addition, the ground floor provided an ample dining/break out area equipped with kitchen furniture and space for coffee machines and water coolers.  The ground-floor design provided the Orsted's team with a large and comfortable space for early morning briefings.
The first floor predominantly composed of various offices, a meeting room, store, cleaner's cupboard and a suitable toilet provision, contained also a large recreational space with kitchenette.  This special room finished with floor-to-ceiling aluminium windows, created a spacious and bright area, allowing to monitor busy site activities without the necessity of leaving the building.  The doors were installed with vision panels, these and the landscape windows helped to create a naturally bright and spacious workspace.  On top of that, high standard of finishes comprising of acoustic ceiling tiles, laminate flooring, IPS in the toilets and climate control enabled to create comfortable and pleasant surrounding, promoting a stimulating environment.
Stuart Winder, Senior Project Planner, Balfour Beatty commented "Algeco were approached as part of a competitive tender for the provision of the Ofsted Block A office and welfare accommodation here at the Hornsea Phase 2 Onshore substation.  from all of the suppliers approached with the clients very high specification, Algeco were the company which engaged us most and pro-actively developed their design to meet our client's high standards"