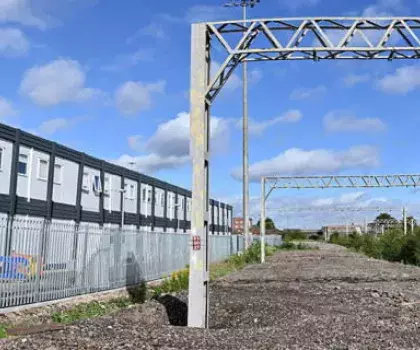 Keeping HS2 on-track for Network Rail
The Challenge
Infrastructure specialists J. Murphy & Sons were tasked with relocating a 200-person Network Rail office and storage facility near Saltley to make way for HS2 infrastructure.
The existing Maintenance Delivery Unit (MDU) would be taken over by HS2, which meant that the premises had to relocate to a new site half a kilometre from the existing location in an all-new temporary facility.
J. Murphy & Sons chose Algeco to deliver the works from previous experience working with Network Rail and on similar MDU relocation projects.
Our Solution
Algeco worked closely with Murphy's to price and design the bespoke solution. Working from the design of a previous traditional build, Algeco proposed 38, 12-metre modules for 2 years with an option for Network Rail to buy at the end of the term.
To ensure minimal disruption, modules arrived on-site with full internal fit-out completed – carefully positioned to ensure they didn't encroach on overhead cables.
The two-storey, 1413sq metre development featured everything necessary to create a safe and comfortable workplace including all plumbing and heating, air conditioning, fire and intruder alarms.
Bespoke features included flexible meeting spaces with bi-folding partitions, an 8-person passenger lift, and even facilities for the observance of religious and belief systems.
With units readily available, the project was delivered in less than 5 months from start to finish. This included 5 variation orders following the contract which were also completed within the agreed timescales.
The 2-year term with an option to buy gave Murphy's the flexibility to simply return the units or buy them to keep as their permanent MDU  – testament to the quality of the rental fleet.
Algeco received an NPS score of 10 out of 10, made possible through a shared vision to deliver the project on time and within budget.
Matt Rippin, Project Manager, J Murphy & Sons added, "Algeco are easy to work with and were quick to respond to the many modifications that were requested during the install.  This provided us with an excellent and easy installation".