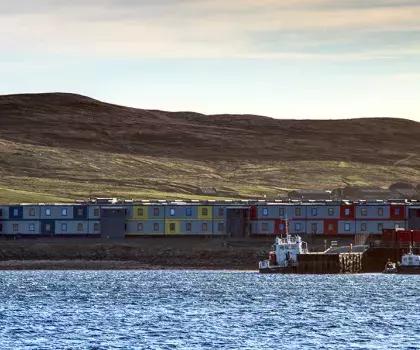 Shetland project showcases benefits of Algeco turnkey solutions
Overview
Malthus Uniteam, an Algeco Group company, is providing a comprehensive facilities management service at a 426-bed modular accommodation facility on the Shetland Islands.
The Brief
The accommodation building was originally commissioned to house construction workers at the £500m Shetland Gas Plant at Sullom Voe, and other investment programmes on the Shetland Islands. Additional workers on short term contracts have been brought to the island by more recent investment in renewable wind technologies, which will extend over the next few years.
The client required a quality facilities management service to help maintain the building and its facilities, which includes bedrooms with en-suite facilities, workstation, TV, and internet access, along with communal spaces and outdoor sports areas.
The Solution
Petrofac Facilities Management Limited and Total Exploration & Production UK commissioned Malthus Uniteam to lease and manage the accommodation building over the long term. By working with a facilities specialist like Malthus Uniteam, the clients avoided having to devote resources to property management and maintenance.
The fact that Malthus Uniteam is part of Algeco gave them the confidence that the facility would be run professionally by a partner that has backing from one of Europe's leading modular services and infrastructure organisation.
Results
Malthus Uniteam, through its facilities management partner Sodexo, is now responsible for all aspects of the site including catering, cleaning, building maintenance, environmental services and security.
The quality of the facilities and services offered to guests by Malthus Uniteam is proving extremely popular and worker occupancy rates are consistently over 90%.
Ian Jamieson, Managing Director at Malthus Uniteam UK, said: "Our customers gain a number of significant benefits from us being part of the Algeco Group, a leading modular space provider in Europe. We see opportunities for leased full turnkey accommodation solutions, with long term facilities management, in the public and private real estate covering housing association, offices, education and many other sectors."
He added: "Being able to supply high quality Algeco or Malthus Uniteam modular accommodation designed around a customer's requirements as well as long term facilities management, and leasing options, makes it a very attractive proposition for customers. It allows them to optimise working capital, whilst the quality of accommodation and services offered attracts more highly skilled workers."
James Withey, Managing Director at Algeco Affinity, said: "The breadth of products and services offered by Algeco delivers important opportunities for our customers and this project on Shetland is a good example. It means Algeco is now able to offer design, build, leasing and facilities management of a vast range of high quality modular and offsite buildings. The fact that they are delivered using our offsite and modular construction solutions means customers gain all the benefits of assured build quality and shorter lead-times."
Malthus Uniteam benefits from Algeco's industry-leading range of value-added products and services.