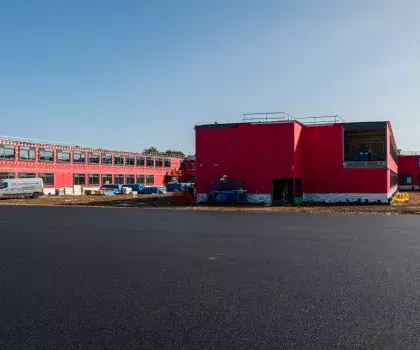 Northampton School for Boys on schedule for rapid completion
The offsite construction of the entirely new Northampton School for Boys is progressing exactly to schedule, with an expected completion by the end of April 2024.
Our offsite team began work on site in January 2023 preparing the foundations. At the same time, we manufactured 210 modules at our Carnaby facility and then delivered them to Northampton.
Completing these two activities in unison meant that we were able to make significant savings on the overall construction schedule.  The two activities could proceed in conjunction rather than having to wait for foundations to be prepared.
Alongside the 190 modules, we fabricated the hybrid structure for the large span hall, so that it was again ready for rapid assembly once delivered to Northampton.
Northampton School for Boys is now exactly on schedule for completion by end of April 2024. It will create a 1200 place new secondary school, including sixth form provision.
Department for Education framework
The project was secured via the MMC1 Lot 1 modular framework. Algeco was appointed as Principal Design & Build Contractor and worked with Watson Batty Architects. We are providing a full turnkey solution.
It was the call for additional school places that was the driving force behind the creation of this world-class teaching facility. The pressing need for additional places, quickly, meant that Algeco offsite was specified for the build in order to complete the project in up to half the time of an on-site build.
The site for the new school is owned by Northamptonshire County Council and once completed will help meet the need for school places that the council had forecast.
The new school will create a 1200 place secondary school, including sixth form provision for 11-18 year olds. It is a DfE funded single sex boys' school. Girls are admitted to the Sixth Form.
Benefits of platform design
A combination of our offsite and platform design modular system is being used at the school.
The platform based approach delivers significant benefits because it is 75% faster and achieves a 47% improvement in value compared to traditional construction techniques; it even offers a 33% improvement in speed when compared with standard modular construction.
The 210 Seismic modules are already in place at the school and fit out work is well advanced. Work is also being completed on the hybrid structure for the halls, which require large open plan internal spaces.
Achieving these important platform design benefits is based on utilising DfMA (Design for Manufacturing Assembly) and Lean Manufacturing. This enables us to deliver the modules to site with assured levels of quality and allowing quicker fit out.
With all the benefits of our platform design modular solution, Northampton school is shaping up to be a development that the industry should take note of. It is delivering a school that is better performing and low carbon than most other developments.