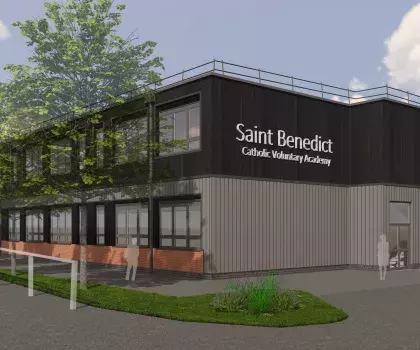 Algeco secures new Science Block at St Benedict's School
Algeco UK Ltd has secured the offsite construction of a major new Science Block at St Ralph Sherwin Catholic Multi Academy Trust.
The project is on the Saint Benedict's Catholic Voluntary Academy school site and was secured by Algeco via negotiated contract, procured through the NHS-SBS framework.
Acting as Principal Design & Build Contractor and working with Watson Batty Architects, Algeco is providing a full turnkey solution for the client, St Ralph Sherwin Catholic Multi Academy Trust, trading as Entrust Education.
Works will comprise a new standalone 2-storey 11 classroom Science Block, supplied by Algeco using its innovative platform design solution.
This will be a low carbon build with the Algeco platform design solution delivering significant reductions in both operational and embodied carbon of up to 70%, through factors such as design efficiency, materials selection and manufacturing effectiveness, leading to limited wastage.
Additional sustainability and low carbon benefits will be delivered through the incorporation of solar PV, recycled materials and high levels of insulation
The Algeco platform-based modular system is also 75% faster and achieves a 47% improvement in value compared to traditional construction techniques; it even offers a 33% improvement in speed when compared with standard modular construction.
The modules will be manufactured by Algeco in its recently enlarged Carnaby facility in East Yorkshire and delivered to site. Handover of the completed Science Block is scheduled to take place in 2024.
James Withey, Managing Director at Algeco Offsite Solutions, said: "The new Science Block at St Ralph Sherwin Catholic Multi Academy Trust is the latest sizeable project win for us. The client chose our turnkey solution because of our extensive experience of modular in education and quicker build times through the use of a platform design approach."
He added: "This latest project expands our portfolio in non-DfE framework Education projects and is a fabulous, low carbon design that really connects students with nature. We hope that it will help inspire future generations of scientists!  It comes at a time when we have just completed a major expansion at our Carnaby facility that is a reflection of just how much our offsite business has grown over the last few years."
Algeco UK Ltd is part of the Modulaire Group, a leader in European modular services and infrastructure.
The Algeco Carnaby offsite manufacturing facility recently completed a £3.5m capital investment programme from Modulaire Group that has increased production capacity by up to 70% and created more new permanent jobs.
Sustainability and low carbon are at the core of the new investment programme, which incorporates solar PV, recycling, energy efficiency and low carbon initiatives. The goal is to create a net zero offsite production facility.
Within the UK, Algeco has a turnover of c£200m. It is a leader in both temporary accommodation, with one of the largest rental fleets in the UK, and bespoke permanent offsite building solutions for a variety of sectors, including education, health, living accommodation and roadside retail.
To find out more about Algeco offsite, visit: https://www.algeco.co.uk/permanent