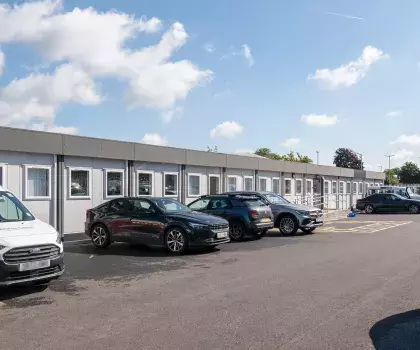 Algeco modular building keeps south west highways running
The Challenge
Milestone Infrastructure, a business that provides services to the water, energy, transport and telecoms sectors across the UK, required high quality temporary offices for its staff working on a local authority Highways Maintenance Contract in the south west.
Part of M Group Services, Milestone Infrastructure began work on the £80m, five-year contract in April this year. The work is being carried out as part of the council's goal of making the highways more resilient.
Temporary offices were required for the duration of the five-year contract. Milestone Infrastructure was therefore looking for a high quality solution that was flexible and adaptable to the changing needs of the site team over the years.
The project timescale for delivery, commissioning and handover of the temporary offices was just 4 weeks. This began in early March, ready for Milestone Infrastructure starting on site on 1st April 2023.
A total of just over 370m2 of floor space was required for offices and meeting rooms.
The five-year contract from Milestone Infrastructure has a focus on reducing carbon emissions and on social value. Both are essential elements of M Group Services' environmental, social and governance (ESG) targets, which meant that any potential supplier was expected to have similar ESG programmes in place.
The Solution
The Algeco team responded to the brief from Milestone Infrastructure with a rapid turnaround at quotation stage, which included detailed costings, schedule of deployment and information on Algeco ESG goals.
A total of 13 Algeco modular units were supplied to create a 371m2 temporary building with combined floor area.
Although the modules were arranged as single storey on this project due to availability of ground area, where space is restricted, Algeco modular units can be multi-storey.
One of the reasons why Milestone Infrastructure specified modular units from Algeco was because they were available quickly, meaning it was possible to achieve the strict 1st April handover date.
There was a very tight time line for completion due to the contract being awarded to Algeco in March, with a handover date of 1st April. This very tight schedule wasn't helped by several days of very wet weather.
The Algeco team provided delivery and installation of the modular units.
Milestone Infrastructure recognised how Algeco is making significant progress in implementing its ESG Strategy. Minimising resource consumption is at the centre of this, which is approached by a 'loops within loops' model.
As part of this model, Algeco refurbishes units that have been on hire to minimise resource usage. These are, like the modular units supplied to Milestone Infrastructure, delivered 'as new' but with a much lower environmental footprint, making it an important part of an ESG approach.
This circularity also provided Milestone Infrastructure with excellent value for money.
The Results
The Algeco modular units were delivered, installed and water tight within just two days, an outstanding result considering the wet weather condition in early March.
The modular units now provide high quality offices and meeting rooms that enhance the comfort and welfare of the occupants.
They incorporate a range of energy saving features such as double-glazing, improved insulation, low energy lighting with PIR sensors and heating thermostats.
Stephen Jenkins, Operations Manager at Milestone Infrastructure, said: "The team that worked on the project where a credit as they went above and beyond to ensure the units were completed, with the quality of workmanship being to a very high standard.
The refurbished units were delivered, installed and water tight within days, which was a remarkable achievement when you consider the weather condition in early March. A programme of install and internal fit out was provided prior to delivery with a very tight time line for completion."
The Milestone Infrastructure team will help to keep highways functioning in this local authority by maintaining streetlights; cleaning and emptying gullies and drains; repairing potholes; gritting in winter; undertaking emergency maintenance; and maintaining carriageways, footways, bridges and verges.
Algeco temporary offices will play an important part in this, helping Milestone Infrastructure staff meet their client's objectives from their modern, efficient and flexible on-site office space.
At the end of the five year-contract, the modular offices are fully demountable and can be refurbished and reused. Algeco temporary buildings have been independently assessed and given a life expectancy of up to 25 years.
For more information on Algeco temporary office, visit: https://www.algeco.co.uk/temporary/modular-building-hire/temporary-modular-offices