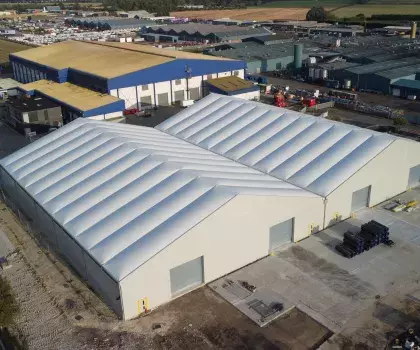 Algeco Announces Major Expansion of Carnaby Site
Algeco announces £3.5m expansion of Carnaby site, adding 60,000m2 factory space
At Algeco, we're thrilled to announce a significant expansion of our Carnaby site. We've invested £3.5 million to create an additional 60,000m2 of factory space, solidifying our position as a frontrunner in the modular construction industry.
The expansion of the Carnaby site is a strategic move for the company, as 70% of our Offsite Solutions (OSS) output will originate from the newly extended facility. The remaining production will be carried out at the company's existing manufacturing sites in Cannock and Inverurie.
Expanding our Carnaby site offers numerous operational advantages, such as the ability to leverage our existing infrastructure, workforce, and supply chain relationships, allowing for a seamless transition and minimising disruption to our day-to-day operations.
Substantial reduction in greenhouse gas emissions
In line with our sustainability goals, we're also making a significant change to our material handling operations. As part of the expansion, all forklifts at the Carnaby site will be replaced with electric-powered models. This transition to electric forklifts will benefit both the environment and the company's operations.
Electric forklifts produce zero tailpipe emissions, resulting in a substantial reduction in greenhouse gas emissions and air pollutants compared to their fuel-based counterparts. By adopting electric forklifts, we're taking a significant step towards achieving our sustainability targets, contributing to cleaner air and a healthier work environment for our employees.
The expansion of the Carnaby site and the adoption of electric forklifts reflect our unwavering commitment to innovation, sustainability, and operational excellence. By investing in this ambitious project, we'll be ideally placed to meet the increasing demand for modular construction solutions, while maintaining our position as a leader in the industry.