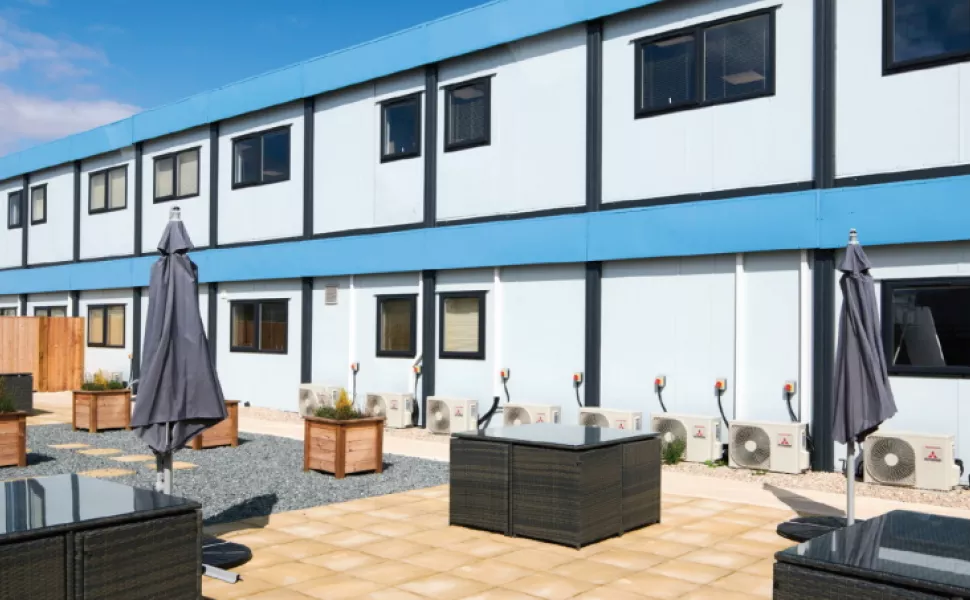 What are the Benefits of Modular Buildings?
A better way of building
There are a lot of benefits of modular construction. Here are just a few of the top reasons people choose modular over traditional construction options. 
Want to learn more about our modular building services? Get in touch.
The benefits
Faster
Groundworks and foundations can be completed on-site while modules or components are manufactured off-site. This means projects can be delivered significantly faster than traditional construction methods.
More Flexible
Modular buildings can be easily expanded, reduced, reconfigured or relocated to meet changing needs. Additional modules or whole floors can be added at a later date to accommodate growing needs or whole buildings moved as part of re-structuring plans.
Safer
Fewer trades people and vehicle movements on site means less disruption and increased safety. Modules are craned into position quickly and safely - controlled from ground level - and usually completed in a matter of days. Nearly half (49%) of construction industry fatalities in 2019 were due to falls from height on-site, mainly because - with traditional wall and roof construction methods - more people and resources are needed the higher you build.
More Reliable
Modular buildings are made weather-tight when they are connected and don't require any wet trades to be deployed as part of their construction. This means they are not subject to the same weather-related delays or skill shortages as site-based construction. Once the modules are in place, the building can be ready to go.
Less Waste
Factory production, with its associated process engineering and quality control procedures, uses materials more efficiently than on-site. It reduces other site-related issues too – such as weather damage, storage and theft. In addition, stock control is more predictable and manageable, resulting in less waste.
Less Disruption
With modular construction about 80% of project activity is completed away from the site. So, there's far less noise, pollution, and mess to be endured by neighbours and the local community. On sites where some buildings are already operational, you can keep your businesses, school, hospital or other activity running with less disruption too.
Simpler
Offsite construction manufacturers can operate as Main Contractors, which means they control all aspects of a project – from planning and design to production and installation. This simplifies the traditional supply-chain, where different consultants and contractors are responsible for planning, design, electrical, mechanical, plumbing, fenestration, roofing and other stages. One point of contact and responsibility for everything makes your life easier.
Cost Effective
Because you can get into the building quicker, you get a faster return on investment than with traditional construction methods – regardless of how big or small the budget may be. What's more, the procurement options available, especially hiring and leasing, remove the need for large amounts capital expenditure and enhance the building's affordability.
Sustainable
Modular buildings are lightweight structures, so the environmental impact of transporting them can be lower than many traditional methods. When combined with highly efficient insulation materials, this means they use less energy in-use than traditional buildings, produce lower CO2 emissions and consume less heating fuel. You can also specify recyclable components, so when a building eventually reaches its end-of-life, it can be recycled with minimal impact on landfill.
Browse our resources
From case studies and frequently asked questions to downloadable information and brochures, we're to help you to give any information you need about our products and services. If you can't find the answer here, get in touch.