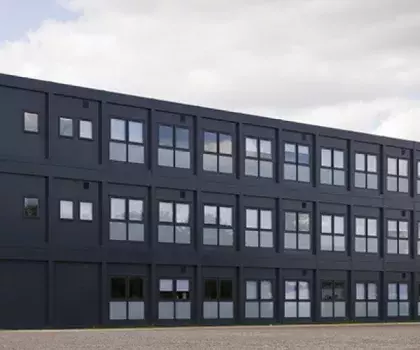 What Are Modular Buildings?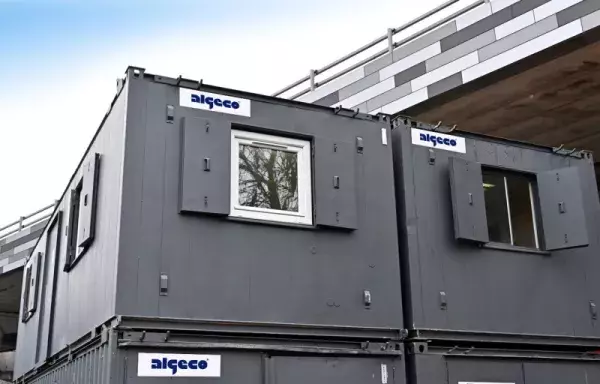 A modular building, also known as a volumetric modular building, is one which has been constructed off-site using modular construction methods. The demand for modular buildings, which can be utilised across a range of sectors, and modular construction methods is growing across the UK because of their wide-ranging benefits.
What is modular construction?
Modular construction is a process whereby individual building modules are built off-site in a factory-controlled setting before being transported to the construction site for installation. This means that the building modules can be constructed at the same time that on-site foundations are laid, allowing for a quicker end-to-end process. 
Volumetrics modular building construction is a bit like creating buildings using a giant LEGO set. Whole 'modules' are manufactured in a factory, then transported to site individually. A crane is used to put them into position. Then, they're linked to form complete buildings. Modules are most frequently made from steel for strength and durability and are sometimes supplied in 'flat-pack' form to be erected on-site. The level of internal finish varies according to specification, from basic shells to fully fitted-out offices, nurseries, restaurants and living accommodation. Volumetric modular buildings are often low-rise - up to four storeys high - with virtually unlimited floor areas possible. 
What are the advantages of modular construction?
Modular construction methods offer many advantages, particularly when it comes to efficiency. For many businesses, the speed at which a modular building can be completed is the most impressive benefit. Projects can be delivered up to 50% more quickly compared with traditional construction methods, meaning less disruption and a quicker return on investment. 
And, with modular construction, speed does not compromise quality. As modules are constructed within a factory-controlled environment, quality control is more stringent and there is less external disruption.
What are the types of modular building?
Modular buildings are typically categorised as either temporary or permanent. Despite a similar construction method, temporary modular buildings are relocatable structures whereas permanent modular buildings are installed on a more enduring foundation. 
Both temporary and permanent modular buildings can be completely bespoke and fully-fitted with turnkey solutions. However, if you're in urgent need of a modular building solution, you could take advantage of quality used modular buildings that are suited to your sector. 
There are also modular hire buildings; these are usually simpler and less customisable, like our Moduflex and Fireflex hire options. For buyers, a vast range of external customisation options are available. These include cladding, render and brick wall treatments, window and glazed 'curtain walling' window options, plus 'traditional' gable, mono and mansard pitched roofs, as well as the default flat roofs that are standard on volumetric modular buildings.  
Portable buildings or cabins
Although sometimes used interchangeably, portable buildings or cabins are not technically the same as modular buildings. Smaller and simpler than modular buildings, single-piece cabins are widely used for temporary space needs, particularly as site accommodation for construction companies. Portable cabins can be stacked and linked to form larger complexes, which is useful where space is tight.
What are modular buildings used for?
There are a variety of sectors that benefit from modular buildings, from public sector schools and hospitals to private retail businesses and restaurants. Here are some of the sectors that use modular buildings:
From pre-school to university, the education sector utilises both temporary and permanent modular buildings, whether that's for modular classrooms, sports halls, teaching blocks, science labs or cafeterias. The versatility in design, size and style that modular buildings provide cannot be replicated as efficiently with traditional construction. Plus, there is a greater emphasis on creating environments that enhance student's wellbeing and improve learning outcomes.
With modular construction offering an efficient, cost-effective and flexible approach to expanding or adapting space, it makes sense why it's a popular choice for schools and local councils. Students and teachers face less disruption to the school day, schools can easily adapt the space in line with growing pupil numbers, and councils can reduce public service costs.  
Algeco is an approved supplier on multiple public sector procurement frameworks, and we work closely with the Department of Education, local authorities and academic institutions to create inspiring, cost-effective and custom educational spaces.
Modular healthcare buildings can be installed extremely quickly with full turnkey solutions, resulting in minimal disruption to patients. This can also be highly beneficial during peak periods, such as winter. The versatility of modular buildings means you can utilise them for GP surgeries, radiography units, hospital wards, operating theatres, emergency care facilities and more.
Crucially, modular healthcare buildings are cost-effective which helps to keep costs under control. Temporary modular healthcare buildings are financed through operational budgets rather than capex, reducing constraints from capital budgets. And, Algeco is an approved supplier on most major procurement frameworks.
Modular offices can be designed to suit the needs of your business, and seamlessly adapted to align with any future changes or developments. With climate control systems, furniture, changing rooms, fully-equipped canteens and more, modular offices are comfortable and productive spaces for your employees to enjoy.
Plus, you can hire your modular office space for as long as you need, whether you have a short-term, immediate need to meet or you plan to rent your building space for a few years.
With rapid installation and full turnkey solutions available, the disruption to your business and your employees will be minimal. And, as important for any business, you can keep costs lower compared with traditional construction projects.
Forecourt, Retail and Restaurants
There's a growing demand for permanent modular building solutions for specialist workplaces, such as forecourt, retail buildings and restaurants. For example, Algeco has worked to create premium retail park shops and drive-thrus for some of the biggest businesses, including Tesco and McDonald's.
From serving counters to signage, everything is covered with a modular build and delivered at least 30% faster than traditional construction. You won't have to sacrifice a strong brand identity, customer satisfaction or functional spaces – these are at the heart of each project.
Temporary modular buildings and modular buildings for hire are both popular solutions for the construction industry. For many construction projects, workers need comfortable and practical welfare spaces to use throughout the day, no matter how many staff work on-site.  We can install temporary modular buildings on-site with office space, canteens, kitchens, mess rooms, changing rooms, toilet blocks and more.
We also offer decant modular building solutions - this is where staff who are housed in buildings affected by construction projects are moved into temporary accommodation while the works are carried out. With complete turnkey service, the space will be ready to use immediately, with Wi-Fi, heating and air conditioning, toilets, washing and more.
Permanent modular buildings are a popular solution for social accommodation needs, including student residences, social housing and defence establishments.
With off-site, factory-controlled construction, high quality living spaces can be built with minimal disruption and thorough quality control. Comfort, functionality and customisation are key, and modular social accommodation spaces are designed with these qualities at the forefront.
For student accommodation, off-site construction is a huge benefit as it results in minimal disruption to studying and education. For defence establishments, off-site construction provides more security and can provide a more budget-friendly build solution. For social housing, with its growing demand, permanent modular buildings are ideal as they can be turned around much more quickly than traditional builds and are built to the latest sustainability standards.
Custodial premises, including prisons, are being modernised in line with Government aims, and permanent modular buildings are a solution to this goal. With construction taking place off-site, there is reduced disruption to the existing premises which is ideal for staff and helps to maintain security levels.
Modular custodial premises can also be expanded easily if there is ever the need for increased capacity. Plus, all of Algeco's modular custodial spaces are built in line with the relevant Department of Justice guidelines and structure.
We hope this guide has helped you to better understand what modular construction is, what modular buildings are, and how they are used across various industries. If you'd like to see some of our completed modular building projects, please take a look at our case studies.
To enquire about our modular buildings and how this may be the ideal solution for your project, please contact our team today.
Browse our resources
From case studies and frequently asked questions to downloadable information and brochures, we're to help you to give any information you need about our products and services. If you can't find the answer here, get in touch.