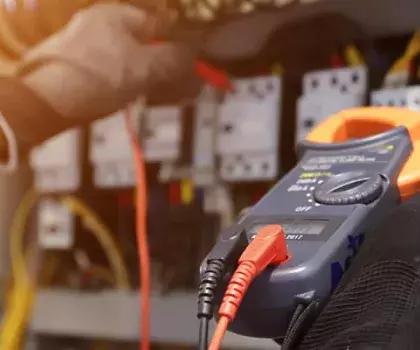 Electrical Testing
Keeping your sites compliant with electrical testing services


 
Making sure your site is fully compliant with electrical requirements is essential in today's regulatory driven marketplace.
Under the Health & Safety Act 1974 (HSWA) and the Electricity at Work Regulation (EAWR), employers have a legal duty to ensure the workplace is a safe environment.
Our electrical testing service provides customers with an Electrical Installation Condition Report for all our site accommodation solutions.
The condition report is carried out in compliance with BS7671 2018 IET Regulations for Electrical Installations and IET (Institute of Engineering and Technology) Guidance Note 3 Inspection and Testing.  ​
Why it is important to carry out electrical testing?


 
Once our units have been delivered, customers will connect to a local/generator electrical source. This new connection requires re-testing to ensure everything is safe for use. Our units are only tested for delivery and not after on-site installation or on obligatory annual service.
The frequency of an EICR is determined by customer's industry, and/or as stated in their risk assessment(s).
Our electrical testing services


 
We offer a range of electrical testing services for our Moduflex, CTX and Anti-Vandal and Anti Vandal+ units:
Following the test, we issue a NICEIC Condition Report via email within five working days for each unit tested. Any observations requiring immediate action will be discussed on-site, observations will be fixed and charged accordingly. 
One of our most popular requests is for EICR testing. This is usually from customers wanting to meet their annual obligation for retest of site accommodation.
Our Electrical Testing service is based on Guidance Note 3 and an annual testing regime, however if classed as plant, testing is required every three months.
Plant can refer to cabins as well, depending on where they are located on the site if they are outside the CDM area. Some customers refer to these as plant and they are tested every three months.
How it works


 
Step 1: Call our team on 0808 108 2222 to book an electrical test.
Step 2: One of our qualified electricians will attend your site, usually within 5 days, and undertake EICR testing on the accommodation units after they have been delivered.
Step 3: Customers receive an EICR certificate by email, with notifications of any faults or observations.
Step 4: If dangerous faults are identified, these will be isolated and we will discuss options for repair with you.
Please note: Some faults can be dealt with on site but not all. If a fault cannot be dealt with on site, a temporary safety fix will be carried out where possible.
Next steps
Call our team on 0808 108 2222 to book an electrical test today.