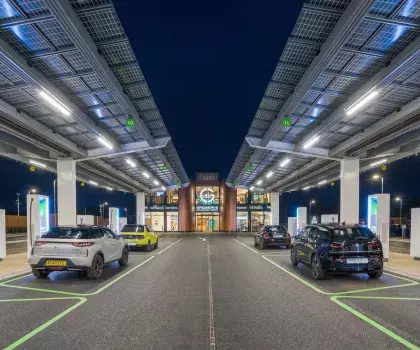 Algeco modular buildings supercharge GRIDSERVE Electric Forecourt expansion
Algeco, Europe's leading modular and offsite building solutions brand, has secured a major order for the supply of new, state-of-the-art GRIDSERVE Electric Forecourts®.
The latest modular buildings from Algeco are supporting the growing demand for GRIDSERVE Electric Forecourts® across the country.
GRIDSERVE is a forward-thinking, technology-enabled energy business that has set itself a mission of delivering sustainable power from 'Sun-to-Wheel'.
Algeco will initially be supplying a two-storey modular forecourt building to GRIDSERVE at its Stevenage development site.
Work will begin on site in early 2024 with a completion date of summer 2024.
Modules for the GRIDSERVE Electric Forecourts® are manufactured using Algeco's latest innovative platform design solution.
This delivers important synergies in terms of sustainability, lower embodied carbon and programme scheduling, with handover in less than half the time it takes a conventional on-site build and quicker even than current offsite builds.
GRIDSERVE Electric Forecourts® are the first dedicated EV charging stations of their kind in Europe.
These award-winning forecourts are focused on enhancing the overall experience, allowing customers to charge their EVs using the latest technology, supplied by 100% renewable energy. The fully accessible EV charging bays allow contactless payment.
Customers can also shop and eat with their favourite brands, including M&S Food, Costa and WHSmith, or work in comfort with rentable office pods.
Algeco will manufacture the platform design modules at its recently expanded Carnaby factory in East Yorkshire. The site has recently benefitted from a £3.5m investment to significantly expand capacity.
James Withey, Managing Director at Algeco offsite, said: "GRIDSERVE chose to partner with Algeco to meet their building requirements because we have been actively engaged in developing a 'green' forecourt solution with them for some time. It was the depth of our retail experience that really stood out for GRIDSERVE."
James added: "GRIDSERVE has an ambitious rollout programme to help support the much-needed EV infrastructure network.  Our track record of delivering projects on time and budget, plus recent investment in our manufacturing site, gave them the confidence that Algeco has the scale, capacity and resources to support their ambitious growth plans."
Algeco has been successfully delivering permanent offsite schemes and temporary modular buildings for over 60 years. Algeco Offsite Solutions is the leading provider of roadside modular shops and drive-thru restaurants in the UK, working with some of the biggest brands such as McDonalds and Starbucks. The advanced factory production process and turnkey solutions mean that fully fitted modular shops and restaurants – built offsite - can be completed on-site within days.
Algeco is part of the Modulaire Group, a leader in European modular services and infrastructure. The Group operates under the Algeco brand across the UK and Europe, where it is one of the longest-established in the modular and offsite construction industry, employing more than 4,400 people working across 22 countries.
To find out more about Algeco Permanent Modular Retail and Restaurants, visit: https://www.algeco.co.uk/permanent/permanent-modular-retail-and-restaurant-buildings