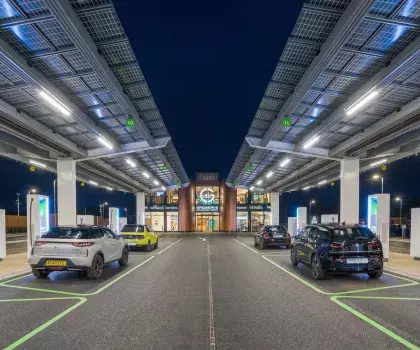 Algeco powers up GRIDSERVE Electric Forecourt expansion
Algeco offsite is providing a series of two-storey permanent modular retail buildings to GRIDSERVE in order to support its expansion programme. They have already supplied turnkey retail solutions to a location in the south and are currently working on another at Stevenage, with more to follow.
GRIDSERVE appointed Algeco to supply the two storey modular buildings because we have been actively engaged in developing a 'green' forecourt solution with them for some time. They liked that fact that we are one of the UK's leading providers of high quality modular retail solutions, working with leading brands such as McDonalds and Starbucks.
Each GRIDSERVE location comprises a set number of modules and these are manufactured using our innovative platform design solution. As well as delivering important scheduling and quality benefits, this approach ensures a much lower carbon build than an on-site build and much less than even a modular approach.
By completing many of the construction stages offsite, the supply chain can be optimised, disruption minimised and the overall build time reduced by up to 50%. Simply put, offsite offers GRIDSERVE a faster way to access high quality new buildings.
Our platform design solution offers a significant reduction in both operational and embodied carbon of up to 70%. Additional sustainability and low carbon benefits will be delivered through the incorporation of solar PV, recycled materials and high levels of insulation
All thus aligns well with the GRIDSERVE approach for high levels of sustainability on all its new sites – customer who charge their electric vehicles are even supplied by 100% renewable energy.
Turnkey retail solutions
Algeco offers turnkey solution for the retail sector that are designed to reduce leadtimes and meet the highest levels of sustainability.
This gives customers important synergies in terms of sustainability, lower embodied carbon and programme scheduling, with handover in less than half the time it takes a conventional on-site build and quicker even than most current offsite builds.
Waste, packaging and the need for on-site transportation are all drastically reduced, while the modules themselves are fully recyclable and reusable, making them a much more environmentally friendly option than traditionally constructed buildings.
Green features such as solar panels and smart energy management solutions can be part of the build. What's more, as the bulk of the work takes place offsite, disruption to forecourt, staff and customers will be significantly reduced, minimising the impact on day-to-day operations and revenue.
Our recent advances in platform-based modular building solutions offer retail and forecourt operators a level of flexibility that traditional bricks and mortar simply cannot match. Retail units can be scaled up or down as required by using the modular approach, making short work of extending existing premises, or adding, replacing or remodelling elements.